Austin Summerfest DX and Contest Forums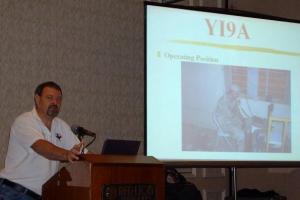 Steve Norris K5ZP/YI9A, at Summerfest 2003

In the past, the Central Texas DX and Contest Club sponsored a two hour long forum at the Austin Summerfest Amateur Radio Convention. Summerfest is the first weekend of August. Topics in the past have included slide shows or documentary videos of great DXpeditions, introductory material on DXing and contesting, antenna programs, discussions of HF propagation prediction, post-contest analysis, and more!

We will not be holding a forum for 2018

Many years, CTDXCC financially sponsors a guest speaker from out-of-town to give a presentation to the Austin area Amateur Radio community. If you know of a guest speaker, forum topic, or video presentation that you think would be great for Austin Summerfest, please let our club officers know.
---
---
ALL K3S TICKETS ARE SOLD!!!
We will be holding the drawing at the Tuesday night August 7 meeting.
The winner will be contacted and arrangements made for transfer of gear (local pickup, shipping, etc).
YOU DO NOT NEED TO BE PRESENT TO WIN
If the winner agrees, we will post their name to the CTDXCC website as soon as possible thereafter.
---