Austin Summerfest DX and Contest Forums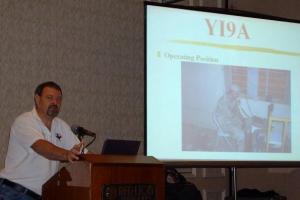 Steve Norris K5ZP/YI9A, at Summerfest 2003

In the past, the Central Texas DX and Contest Club sponsored a two hour long forum at the Austin Summerfest Amateur Radio Convention. Summerfest is the first weekend of August. Topics in the past have included slide shows or documentary videos of great DXpeditions, introductory material on DXing and contesting, antenna programs, discussions of HF propagation prediction, post-contest analysis, and more!

We holding a forum for 2019: "Flex Radio Innovations"

Abed Haque, AB5EB and Ed Gonzalez, KG5FBT will be hosting the CTDXCC program "Flex Radio Innovations".
10Am to Noon in Salon A-B-C
They will put on a real time live demonstration of their remote capability.
They are both software engineers who designed the Flex Software.

---