Embroidered Polo Shirts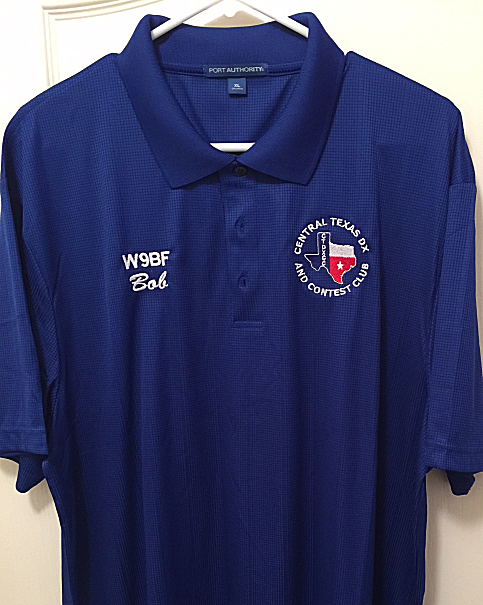 CTDXCC Hats and Shirts can be purchased from Effective Sign Solutions, 400 W. Whitestone Blvd., Cedar Park, TX (Just west of J&J's BBQ).

Just stop by or call Zira, the owner at (512) 537-3038. Tell her Donald, K6RV sent you.

Hats: (These are quality hats) Many colors, with CTDXCC Logo - $9. You can add your name/call on side or back of hat for additional $5. Or, you can bring in your own hat and get name/call embroidered for same $5.

Shirts: High Quality, Port Authority Brand, No Shrink, many colors, $22. You can add embroidered CTDXCC Club Logo, name/call for $17. Or, you can bring in your own shirt, get Club Logo, name/call embroidered on it for same $17.

One final perk: You can ask Zira to call me, Donald, K6RV, and I will pick up and deliver to you at Club meeting or Zira will USPS mail to you for just cost of stamps.

If you have any questions, give Zira a call.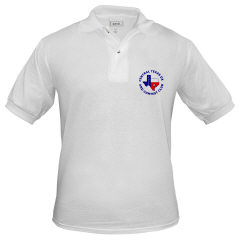 Printed Club Logo Shirts, Mugs, Mousepads
CTDXCC club members can buy T-shirts, golf shirts, hats, mugs, mousepads, tile coasters, flying discs, magnets, and more from the online CTDXCC store at cafepress.com. cafepress.com screen prints these items with our custom logo on it when you order them - the club doesn't need to maintain an inventory, you never have to worry about getting the right size, and you can order them any time you want, delivered to your door! How cool is that?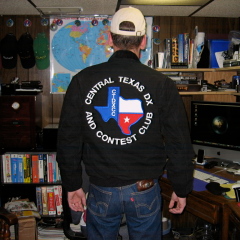 Embroidered Club Logo Apparel
CTDXCC club members can buy T-shirts, knit shirts, hats, outerwear, and more with high-quality embroidered club logo artwork from Panda Embroidery. Panda has artwork for the CTDXCC club logo in several sizes suitable for hats, shirts, and outerwear, ready for your custom order. Contact Dennis at (800) 324-4151 for more details and to place your order.
Club Logo Badges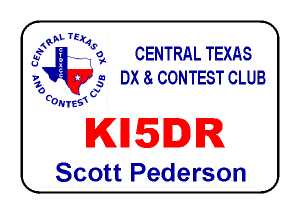 CTDXCC club members can order a call sign badge with the Central Texas DX and Contest Club name and logo from The Signman of Baton Rouge, NV5A. You may browse through their site and see the different designs for badges. The Signman offers several different fastener options for their badges. Once you are ready to order, you can use this link, or click on the "Order Now" button that is on The Signman's site. To order a badge with the CTDXCC logo, look under the "Club Items" popup selection, and at the very bottom of the choices, select the option for "Other, detail layout in Product Information area below", then in the Product and Information space "Enter More Information Here" below, enter "CTDXCC Austin color badge."
QSL Cards
Club members may purchase QSL cards with the CTDXCC logo on them from a variety of sources. If your QSL card printer of choice does not already have the CTDXCC club logo artwork on file, direct their attention to the club logo page on this web site. If the printer has special needs for the artwork, please contact the club webmaster.