What is Contesting?
Contesting is the sport form of amateur radio operating. In a contest, an amateur radio station, which may be operated by an individual or a team, seeks to contact as many other amateur radio stations as possible in a given period of time and exchange information. The contacts made during a contest contribute to a score by which stations are ranked and winners are determined.
The rules for each competition define the frequencies that can be used and whether contacts can be made on voice, with Morse code, or by digital protocols that use computers to send and receive text. Each contest has its own rules about the kind of information that must be exchanged, such as a name, a signal report, or a location. Different contests promote different strategies, skills, and challenges!
The Central Texas DX and Contest Club is home to some of the world's finest amateur radio contesters and contest stations. Five of the largest contest stations in the area were highlighted in the November/December 2000 issue of the National Contest Journal. Our contesters regularly participate in competitions using voice, Morse code, and digital text. We regularly enter the Club and Team Competitions to challenge groups in other parts of the country or the world. We are always looking to help new contesters who are passionate about high performance amateur radio and want to learn more about the sport!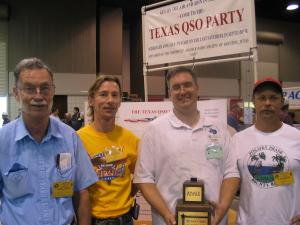 Scott Pederson KI5DR accepts the trophy for the CTDXCC victory in the club competition of the 2003 Texas QSO Party!

Club Competition
The Central Texas DX and Contest Club competes in the Club Competition category of radio contests sponsored by the ARRL, CQ Magazine, the NCJ, and more!

Contest Awards Sponsorship
The Central Texas DX and Contest Club is proud to support radio contesting through the sponsorship of plaques and awards for the competitors in major radiosport events.

Trophy Case
See the trophies and plaques won by the CTDXCC in club competitions.

Contest Score Rumors
Check out the claimed contest scores and soapbox comments for some of the most popular radio contests in which CTDXCC members operate.